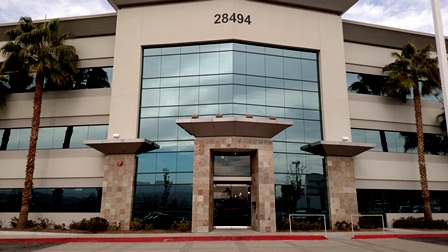 David Hoffman founded the firm at the beginning of 2003 under the name "Law Offices of David L. Hoffman" in Valencia, California. Since early 2003, the firm has been in the same 1472 square foot offices in the Mammoth Professional Building in Valencia, California, adjacent the industrial center. While the bulk of the firm's clients are in Southern California, the firm has many clients throughout the U.S. and some from as far away as Japan and Australia. Since about 2005, the firm has varied between one and three attorneys, and mostly been two attorneys. The firm has intentionally stayed small to be cost effective and to uphold high standards. The firm has always represented primarily on going businesses or reasonably well funded start-ups.
The Hoffman Patent Group's goal is to provide the best, and where possible, the simplest solutions for its clients. We are not necessarily fettered by conventional thinking. Below are common projects we handle:
Litigation: Hoffman Patent Group defends patent, trademark and copyright lawsuits, as well as any other matters related to intellectual property, such as patent mismarking lawsuits.
Patent prosecution:  Hoffman Patent Group writes patents using the understanding that they will have a long life.  We look for the math in the invention, even in inventions that do not appear to have any.  We use the math to help obtain patents.  The math can make the difference. We also handle reexamination and reissue, and patent office appeals, CBM, IPR and IVR proceedings.
Trademark prosecution:  Hoffman Patent Group represents many trademark clients.  We believe in a good trademark search to enable the best trademark selection, and to enable a trademark application of the proper scope. We also handle opposition and cancellation proceedings and trademark office appeals.
Design-around studies:  Patent and trademark infringement clearance searches and design-around studies, non-infringement opinions, and invalidity opinions are critical to keeping your company out of litigation, and minimizing damage in case of litigation.  Hoffman Patent Group focuses on the details, which make all the difference.
Intellectual Property Appeals:  If you are going to appeal, it is imperative to do it right.  An appeal must have the right blend of persuasiveness, clarity and brevity.  That is no easy task.
Due Diligence: Hoffman Patent Group works with business counsel (for buyer, selling, lender, borrower, or other parties) in assessing the intellectual property and implementing appropriate warranties and other terms in the sale of a business and/or its assets, and in the documentation of intellectual property rights being sold and/or put up as collateral.
Intellectual Property Review: Hoffman Patent Group reviews your intellectual property, including web site, marketing materials, trade secrets, patent and/or trademark portfolio, agreements, licenses and other IP related materials and provide and execute a plan to maintain and/or achieve optimal protection.
Intellectual Property Licensing: Hoffman Patent Group negotiates and prepares intellectual property licenses.
Other IP Related Work: The firm is capable of any IP-related project. However, certain types of projects are typically not handled and/or referred out as appropriate: contingency litigation; services much more in the nature of entertainment law; incorporation's or LLC formations and the like. Generally, the firm does not represent individual inventors if they do not intend to personally commercialize their invention (i.e. merely hope to sell or license patent rights). Why? These types of individuals rarely benefit in the firm's experience from the expense of obtaining a patent. These examples are not exclusive.